We have created a series of holistic spa experiences exclusively crafted to enhance your journey of personal rejuvenation and renewal. With exceptional, highly trained therapists using organic and natural ingredients, the experience is both holistically therapeutic and personalized.
(Prices are subject to change without prior notice)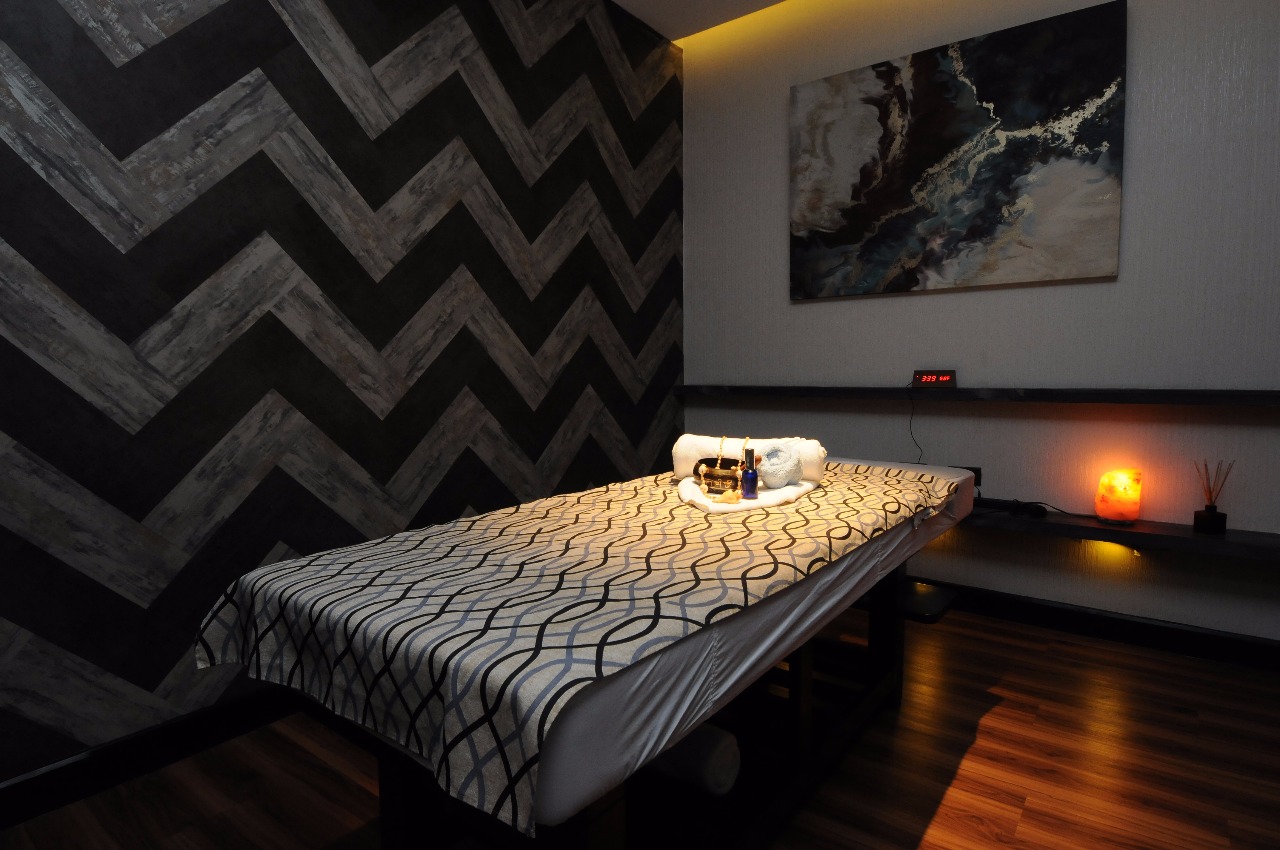 MARINA SIGNATURE EXPERIENCE
120 min.
Hydrating body exfoliation 30', Marina Signature Massage 60' & Quick facial 30'
Rediscover your inner strength with an invigorating ritual by the healing powers of a unique experience, leaving you in an elevated state of complete bliss.
3,000PHP
EXOTIC TROPICAL DETOX
110 min.
Green tea scrub 30' & Slimming massage 80'
A fusion of treatments combined for a truly purifying experience by exfoliation leaving you revitalized. Your skin is left nourished and soothed and the body is re-energized & cleansed eliminating fluid retention in your body.
2,599PHP
BODY AND SOUL PACKAGE
120 min.
Relaxing Crystal Chakra Massage 60', Quick facial 30' & Head Massage 30'
A perfect ritual healing meditation that require the free flow of the seven major energy centers in our body which includes a quick facial and a head massage balancing facial and relaxing pressure points.
2,800PHP
MARINA SIGNATURE MASSAGE
A signature massage that originated over years of practiced massage techniques. Its effectiveness is ensured by beginning with strokes that de-stresses you from the depths of your muscle folds, then it moves on to the calming strokes. Witness the power of our signature oil blends that you can only experience here at Marina.
Php 1,700-- 60min / Php 2,300—90min / Php 2,900—120min
WELLNESS MASSAGE
A massage like no other, customized uniquely to the requirements of your body and muscles. The therapist will select techniques intuitively as required by your muscles and spend focused time on your areas of tension that will soothe you from head to toe with the perfect combination of palm pressure followed by a warm oil massage.
Php 1,700-- 60min / Php 2,300—90min / Php 2,900—120min Php
SPORTS MASSAGE
A powerful massage designed to alleviate deep-seated tension and muscular stress. Perfect for active and athletic individual; deep manipulations relieve aches, discomfort and aid the natural healing process.
Php 1,700--60min / Php 2,300—90min / Php 2,900—120min
RECHARGE STONE THERAPY MASSAGE
Energy guides us. Using the purest oils and hot basalt stones as an extension of the therapist's hands, melts away muscle stress leading you to a deeper sense of relaxation.
Php 1,950--60min / Php 2,675—90min / Php 3,400-120min
BAMBOO MASSAGE
An innovative way of Swedish massage using heated bamboo to roll and knead the tissue creating an extreme sense of relaxation.
Php 1,950--60min / Php 2,675—90min / Php 3,400-120min
RELAXING CRYSTAL CHAKRA MASSAGE
A treatment tailored to your specific needs using a blend of individually chosen essential oils with crystal chakra stone that will completely aid a deep state of relaxation. We use medium to firm pressure, combining long strokes with kneading and thumb movements.
Php 1,650--60min / Php 2,225—90min / Php 2,800—120min
AROMATIC SLIMMING MASSAGE
Suitable treatment that is mainly focused on the most troublesome areas, such as the abdomen, the buttocks or the thighs. Appropriate pressing and massaging of the fatty tissue leads to breaking fat cells and accelerates their burning process.
Php 1,950-60min / Php 2,675-90min / Php 3,400-120min
HOLISTIC FOUR HAND MASSAGE
One of our luxurious spa rituals is this four-handed synchronized massage performed by two therapists working together in rhythmic tandems.
Php 2,675--90min / Php 3,400—120min
MOTHER-TO-BE MASSAGE
This inspirational therapy connects mother and baby through the power of touch, working with two heartbeats as one. Specialized positioning on a unique comfortable beanbag is used to ensure safety, comfort and relaxation; this helps relieve tension in the back whilst uplifting the mind.
Php 1,500--60min / Php 2,000—90min / Php 2,500—120min
HYDRATING COCONUT SCRUB
60 min.
Rich in vitamins and anti-oxidants, walnut shell removes dead cells and strengthens new skin to leave it feeling completely smooth, clear, and hydrated.
1,950PHP
ZESTY SALT SCRUB
60 min.
Uses magnesium sulfate salt which has an anti-bacterial quality that helps prevent itchiness, and other skin problems. The abrasive friction between the salt scrub and skin encourages good blood circulation that gives an attractive and rosy post-scrub glow.
1,950PHP
DETOXIFYING GREEN TEA SCRUB
60 min.
A slightly abrasive texture of dry natural detox green tea leaves with almond oil that easily absorbs thus, leaving your skin soft and smooth. Green tea leaves also have great anti-inflammatory properties that aids the reduction of blemishes and scars.
1,950PHP
SLIMMING MUD WRAP
60 min.
A detoxifying wrap with highly mineralized marine mud that treats muscular pain, loosening muscle joints. This treatment helps drains toxins and excess fluids followed by a quick massage for systemic balance and renewed energy.
2,450PHP
MARINA ADVANCED ANTI-AGEING FACIAL
60 min.
An anti-wrinkle facial with proven results. Special lifting massage techniques are combined with professional strength anti-ageing formulations for a maximum treatment efficacy, leaving a firmer, and youthful glow.
2,750PHP
BESPOKE SOOTHING FACIAL
60 min.
Soothe your skin while enjoying a relaxing and nourishing treatment that helps lower skin sensitivity and reduce the redness for immediate comfort to stressed skin.
2,550PHP
BRIGHTENING OXYGEN FACIAL
60 min.
Designed for dull skin with pigmentation spots. This facial restores vitality to your skin and radiance to your complexion.
2,650PHP
GENT'S FACIAL
60 min.
This super grooming facial works overtime to help eliminate blocked pores, rapidly accelerate skin repair, and neutralise impurities. Fast-acting ingredients reduce sensitivity and provide long-lasting defense against the damaging effects of daily pollutants, leaving the skin visibly clear and squeaky clean.
2,450PHP
ENHANCEMENT/ ADD-ONS
(30min.)
BODY EXFOLIATION — 900PHP
ABSOLUTE EYE TREATMENT — 700PHP
QUICK FACIAL TREATMENT — 950PHP
REFLEXOLOGY — 550PHP
BACK AND NECK MASSAGE — 550PHP
INDIAN HEAD MASSAGE — 550PHP
EYEBROW / LIP WAXING
150PHP
UNDERARM
350PHP
BIKINI
500PHP
BRAZILIAN
1,100PHP
HALF LEG
500PHP
FULL LEG
900PHP
HALF ARM
400PHP
FULL ARM
750PHP
MARINA SIGNATURE REFLEXOLOGY
60 min.
A reflexology of the ancient Chinese culture that grounds energy, experienced only in Marina. It concentrates solely on the feet, and on the lower and upper legs reflex zones which effectively stimulates corresponding organs in the upper body.
1,400PHP
ORIENTAL PEPPERMINT FOOT REVIVER
60 min.
Experience holistic revitalisation and deep relaxation as your therapist applies specific thumb and finger techniques to various reflex points specifically on the feet up to the knee level that gives a cooling sensation and has calming effect on the body that relieves sore muscles.
1,300PHP
ADD-ONS
(30min.)
Relaxing Head Massage
550PHP
Back and Neck Massage
550PHP
Arm and Hand Massage
550PHP
MARINA SUPREME HAND SPA MANICURE
(with normal nail polish)
This nurturing hand therapy begins with a soothing soak for your hands followed by a gentle exfoliation with jojoba beads, rich in plant essences. Relax with a calming massage leaving your hands feeling silky, smooth and soft. This treatment includes a full manicure and includes choice of one polish only.
550 PHP
MARINA SUPREME FOOT SPA PEDICURE
(with normal nail polish)
Revitalise tired, sore feet with our soothing foot therapy. Begin with an aromatic foot soak followed by an invigorating exfoliation to refresh the skin and stimulate circulation. A soothing massage follows using foot cream giving you total relaxation. This treatment includes a full pedicure and a choice of one polish only.
700PHP
Regular Manicure with Normal Nail Polish
250PHP
Regular Pedicure with Normal Nail Polish
350PHP
Gel Nail Polish Coating
350PHP
Gel Nail Polish Removal
200PHP